🙋🏼‍♀️
Have you found yourself throwing away vegetable after vegetable, month after month?


🙋🏼‍♀️
Do you think about your food habits and get discouraged? 


🙋🏼‍♀️
Are you tired of never having a plan and watching your food budget balloon out of control?


🙋🏼‍♀️
Does the thought of grocery shopping stress you out?


🙋🏼‍♀️ Have you tried meal planning before and failed?
ALL THE WHILE TRYING TO FEED YOUR FAMILY HEALTHY MEALS ON A BUDGET.
Because you know how important food is.
(No need to down the Facebook/Instagram comparison hole...
the last one showed the "perfect" kids eating ALL their veggies and $200 under budget, right?)
I know those frustrations well. I have felt the pure, unadulterated annoyance that food can bring. It's never fun knowing that you went over budget and had to throw out all the produce you thought for sure you were going to eat... and now you've wasted money and didn't eat healthy.


That's why I created this course.
How To Save Money on Groceries
has been 2 years in the making. 2 years of crafting a step-by-step guide on how to...save money on groceries. 


This course will help you maintain a healthy lifestyle, stop food waste and give you tips and tricks to harness your best grocery life. You'll save money, learn how to spend wisely, and most importantly, you'll learn how to lower your food cost so you can spend on the things that bring you joy!  
Frequently Asked Questions: 
When does the course start and finish?
How To Save Money on Groceries starts when you enroll! You are automatically given access to the entire course, and, because we live in the world of tech, you have access to it forever! How To Save Money on Groceries is designed to be self paced-- so you get to decide when to start, pause and finish. It's up to you, boo boo. 
How long do I have access to the course? 
You will have lifetime access! After enrolling, you will have unlimited access to the How To Save Money on Groceries course and materials forever. *blows air horns*
What if I'm gluten-free or have a diet restriction? Will this course still work for me? 
Absolutely! We are teaching a system that will work for every diet and lifestyle. We will teach you how to save money on the food you love, rather than change the way you eat. We're all about realistic tips and tricks, regardless of what you consume. With that being said, you can be gluten-free, vegan, on the keto diet and still find How To Save Money on Groceries life-changing. 
What if I am unhappy with the course? 
Take the next 30 days to dive into the curriculum, meet everyone in the FB group, and experience How to Save Money on Groceries. And if you don't believe this course will save you any money then you will receive 100% full money back.
Do I have to use coupons? 
Nope! I personally don't use coupons to save money on groceries. There are a ton of ways to save money outside of coupons. However, if you do have products that you would like to use coupons to buy, you will multiply your savings with this course!
Check out Angela's Testimonial of How To Save Money On Groceries!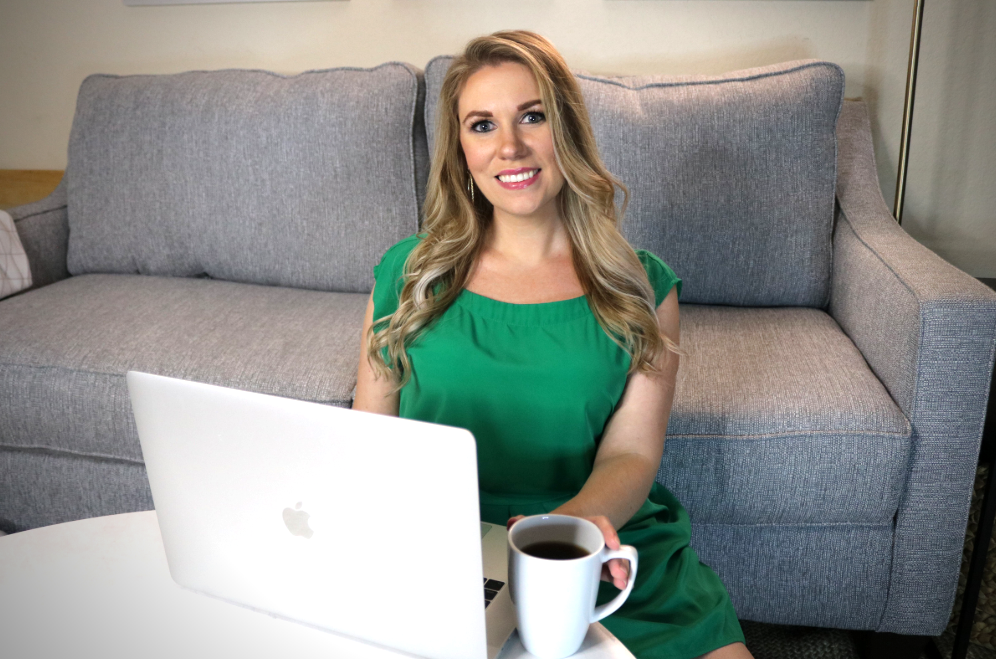 Kelly Anne Smith is the owner and founder of Freedom In A Budget, an investing and personal finance brand dedicated to educating people on how to grow their income as well as how to spend, save and invest their money. 
Kelly's growing YouTube channel has over 700 videos with 40,000 subscribers and 3 million views. She has been featured in Forbes, CNBC, CBS, His & Her Money, The College Investor and a slew of reputable personal finance blogs, vlogs and podcasts. Recently, Kelly's blog, www.freedominabudget.com won Best Finance Blog of South Florida, 2019.
Her mission is to show others how to save money on the mundane so they can spend money on what brings them true joy in life.
When she's not filming videos or teaching life-changing courses, she is cuddling with her two cats and hanging out with her husband in South Florida.
Let's get you saving on your grocery bill, shall we?
>>>